Learning and development
There are a variety of ways in which we help you develop and maintain the skills, competencies and capability our people need to be effective and successful. Our Learning and Development Policy describes the purpose, approach and elements of our learning and development program.  In summary, we are committed to giving our people every opportunity to excel in their jobs.  A large part of this is providing the learning and development to ensure our team have the necessary skills and competencies to perform at their peak.
Identifying training needs
Doctors are taught, "prescription without diagnosis is malpractice".  Before prescribing a learning and development solution, you need to carefully define the development need or gap. Sending someone on a course is expensive and often not the best solution.  For example, on job training from experts in your team is usually a better (and cheaper) way to grow capability then sending someone on a course.  A systematic approach to identifying training needs and putting development plans in place is the GROW model below.
GROW helps us define the need (Goal), assess the gap (Reality), identify and choose (Options), and put action plans in place (Way Forward). You can document the resulting plan using our Coaching Plan Template.  Contact your HR business partner if you would like some assistance with this process.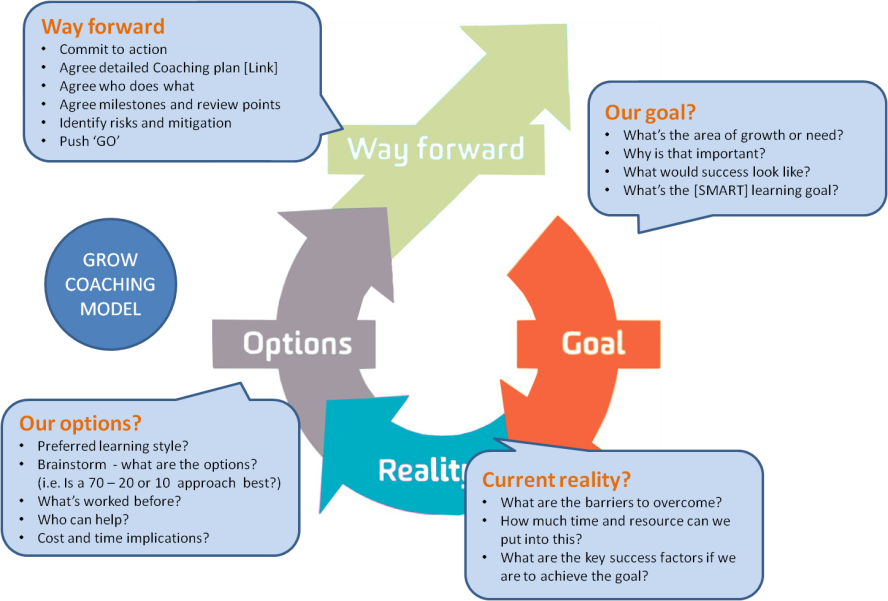 70-20-10 learning philosophy
Our philosophy centres on the 70-20-10 framework, which acknowledges that most learning occurs through experience and practice. This approach requires that 70% of organisational learning occur through on-the-job experiences, 20% from drawing on the knowledge of others and 10% through formal learning.  It is designed to encourage thinking outside classes, courses and conferences.