Reward, remuneration & recognition
The purpose of our remuneration, benefits and recognition programs are to ensure employees are fairly remunerated and recognized for their contribution to the business. As managers we play an important role in ensuring our team are fairly rewarded. Set out below are the key elements of our reward system including information about your role in our various programs and support to help you deliver on your responsibilities in this area.
Our remuneration approach
Salary, bonus and benefits
Our remuneration package includes a combination of salary, bonus and benefits as follows;
Salary: We pay competitive market salaries. Each year we benchmark salaries internally and externally to make sure what we pay reflects the market. Detail of the annual review process is provided below.
Bonus: We have a discretionary bonus system. Not all employees participate and the basis of the bonus opportunity is different for different groups. Employees may be offered the opportunity to participate in the bonus scheme either when they join the business after a minimum qualifying period.
Benefits: The company offers a range of benefits to employees including our EAP scheme and the opportunity to join our group Southern Cross medical insurance scheme and receive subsidised rates.
Annual salary review process
Principles:
All permanent employees are entitled to an annual salary review.  Note: We guarantee a review of salary, not a guarantee of an increase on that salary.  All salary reviews and salary movements are effective from 1 April. Unless there is a job change or an exceptional circumstance, salaries are not reviewed or adjusted at any other time of the year. Factors that influence the review and the review process are explained below.
Factors that drive the salary review:
The review process
As a manager there are 5 Steps involved in our annual remuneration cycle (beginning at Step 6). They are set out below including guidance for each step.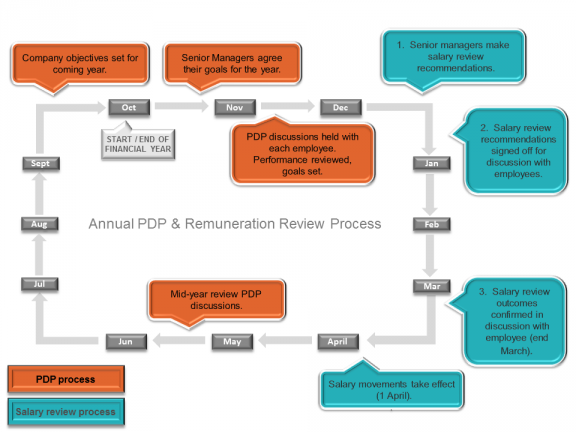 The first step in our annual remuneration process involves senior managers developing remuneration recommendations for each employee taking into account a range of factors including; business performance (and budget) CPI movements, internal and external benchmarking, individual performance and behaviour.
Working with HR senior managers finalise remuneration recommendations for MD approval and then discussion with individual employees.
Managers explain and discuss remuneration review outcomes with individual employees and the outcomes are then finalised.
Salary changes implemented.
Handling requests for pay rises
The question of pay rises is dealt with at remuneration review time, but employees sometimes ask for a pay rise between cycles.  It's important to respond promptly and resolve these issues.
Generally remuneration reviews outside the annual cycle will not be available however, you may make a case for a change in remuneration for an employee. The application should be signed by your manager accompanied by evidence and/or justification for the increase. The application should then be submitted to the CEO for approval.
Your response to a request for a pay rise should depend on the reasons given for wanting a pay rise: